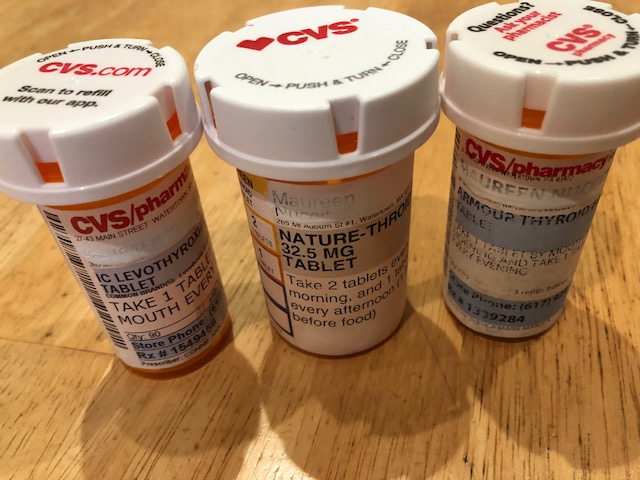 Are you frustrated that despite following your doctor's orders and treatment plan, you still feel fat, foggy and fatigued? Well there might be some overlooked issues that are preventing you from becoming optimized on thyroid replacement hormone.
As many thyroid patients know, 93% of the hormone produced in the thyroid is T4 which is inactive and has to be converted to the active form T3. Even thyroid replacement medications, many of which are T4 only (Synthroid and levothyroxine), still need to be converted to active form T3. But there might be some "monkey wrenches" that prevent this conversion from working optimally, thereby producing hypothyroidism and all its miserable symptoms.
Here are some things that might be preventing the conversion of T4 to active T3:
Liver issues
Much of the T4 conversion to active T3 takes place in the liver. If you have a toxic liver or it is compromised in some way, the conversion won't take place properly.
Gut issues
The rest of the T4/T3 conversion takes place in the gut. If you have digestive issues or Leaky Gut syndrome, this could also prevent optimal T4/T3 conversion. A poor diet can contribute to your less than optimal T4/T3 conversion
Hormonal Imbalances
High cortisol levels also prevent optimal T4/T3 conversion. In fact, oftentimes, high cortisol makes T4 convert directly to Reverse T3–the INACTIVE form of T3. Reverse T3 is not useful for body.
Also low progesterone can prevent optimal conversion.
Nutrient Deficiencies
Low selenium, low iron, low zinc can also prevent optimal conversion of T4 to active T3. Blood lab tests can easily determine these deficiencies.
Heavy Metals, Excess Iodine, Herbicides and Pesticides
There is so much pollution and toxins in our environment today. Our grandparents' detoxing systems were able to keep up with their relative amounts of toxins, but today it's very difficult for one to optimally detox without some protocols. Heavy metals, herbicides/pesticides can compete with thyroid hormones at the receptor sites. Therefore, active T3 is not able to do its job. There are tests to determine heavy metal toxicity and other toxins.
Food Allergies and Sensitivities
Food allergies or food sensitivities can cause inflammation in the gut. Inflammation can happen on the cell membranes thereby preventing optimal T4/T3 conversion.
OK, then where do you begin to find out if the above listed issues might be your issues? First, it's important to find trusted, informed health professionals to work with you so you can regain optimal health. It's also important to take the right tests to determine your exact root cause. And it helps to have the much needed support of people who understand what you're experiencing and help you begin your journey back to health.
Information for this article was gathered from StopTheThyroidMadness.com, 316Jumpstart.com, The ThyroidPharmacist.com and the author's own personal experience.