A lot of times I hear that the Paleo/Primal Diet is boring and offers no treats.
Well I have created a recipe for homemade lemon jello to prove that wrong. It is great on a hot day. See the video on instructions. https://www.youtube.com/watch?v=5fgG1acYNUk
But here is the recipe:
Lemon Jello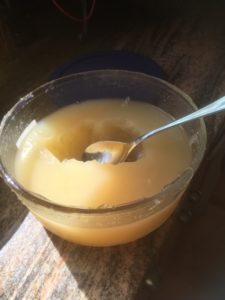 4 packages Knox gelatin
1 16-oz bottle of Santa Cruz fresh lemon juice, chilled
2 cups of boiling water
1 teaspoon of stevia (like Sweet leaf)
In a glass bowl, sprinkle the gelatin over chilled lemon juice.
Add hot water stirring so gelatin dissolves. Add stevia.
Refrigerate for several hours.
Enjoy